Father's Memories by Doug Greenfield
The light of Frank's life, his Govan Beauty, Marjorie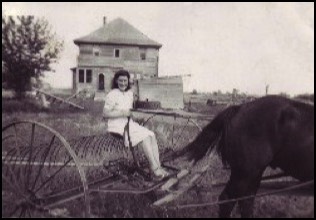 The two youngest Greenfield brothers, Joe and Bill, arrived in Saskatchewan in 1903, followed two years later by my grandfather, Ewert, and sister Maude (Aunt Sis). They all settled within a mile of each other and farmed the rich Saskatchewan farmland.

Maude married Harold Morton who later died, leaving her with four children. Great-Grandmother Greenfield had also passed away in those years, so Maude moved into Grandfather Ben's home to help him, and to raise her kids.

My great Aunt Sis ( Maude) raised Jean, Bill, Morse, Howard and Helen. The Greenfield Family along with other neighbours, built the Stonycroft School just a half-mile from Great-Grandfather's home. Almost all the schoolteachers that taught in the school, boarded with Grandfather throughout the years, including Miss Gladys Ashe. Gladys, who hailed from Grentworth, Saskatchewan southeast of Regina, eventually married Father's older brother, Vern Greenfield. They built a home and a prosperous life in Vancouver after the war. Vern lived well until his passing in 2005 at age 88, and Gladys now resides on Vancouver Island near her son Ron and wife Sandi in Duncan.


Comical Uncle Joe:

Apparently, Great-Uncle Joe was a real character and known for his many blunders. One time, Dad visited Uncle Joe when he was getting ready to butcher a pig. Joe and another man had boiled a half a barrel of water in which to dunk the pig to remove the bristly hair after it was dead. They had this barrel on the back of a sleigh deck and backed it into the barn so that they could lift the pig up with a rope and dunk it into the barrel. The men pulled the pig up with a rope and pulley that they positioned over the barrel, and just then, the rope broke! This left the pig at the bottom of the barrel of boiling water and they couldn't get it out. The pig, of course, was busy cooking while the men ran around in circles trying to figure out what to do. Joe kept saying, "I need Emmi, I need Emmie (his wife). She'll know what to do!"

Another goofy incident occurred when Father was again visiting his Uncle Joe. With all the visitors settled in the house, Joe suddenly and strangely announced that he had a horse that was suffering and that it was time to go out to the barn and put it out of its misery. Away went Uncle Joe, leaving all the company in the house, and taking his rifle, he led the horse out of the barn and across the field to a clump of trees some distance away. Everyone heard the shot and then they could see Uncle Joe walking back across the field with his gun over his shoulder. In a few moments, the kids all began to laugh because only a little ways behind him came his horse following along like nothing was wrong. Joe came all the way back and opened the barn door and the horse followed him back inside.

Uncle Joe's son Bill was also a character, according to Father. Once when Dad and his brother Vern were travelling with their cousin Bill in his old Buick, they noticed that he didn't seem to grasp the reason to change gears on the hills. Bill wore thick glasses and at one point he was barrelling down a long ravine when the brothers noticed a herd of horses standing on the road at the bottom. They both yelled, "Bill! Watch out for the horses!" Bill squinted ahead and retorted, "What horses?" Dad says that they just closed their eyes and wondered how he ever made it through without hitting one of the animals.


Generous Harry:

Harry Woods was another neighbour of the Greenfield's at Gibbs Saskatchewan. He hired Father one year to clear trees on his farm. The Saskatchewan government at the time subsidized farm labour, so Harry was given $5.00 per month to hire someone. The $5.00 turned out to be Dad's entire monthly pay.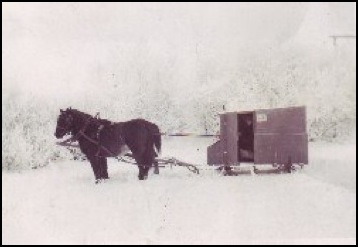 Frank and Vern built this sleigh that held feed for the horses,
a 6-Volt light for night travel and a wood stove for travelling
comfort. They used this handy mode of transportation to travel
to dances in the area where they made a few extra dollars as
musicians. Frank played the violin while Vern played the piano.


Barbed wire fence telephones.


By the time young Frank and brother Vern were teenagers they were already finding ways to invent smart new technology. Living about 50 miles from Regina on the farm with their parents and little sister Dorothy was a great place to experiment with new ideas and hone their inventive minds.

A newspaper article in the Regina Post about people in remote areas keeping in touch by barbed wire fence telephone caught Frank's eye one day. Every farm was rimmed with a two or three strand barbed wire fence to keep the livestock from wandering, so here was an excellent opportunity.

Experimenting, the boys found it easy to construct their first phone system. All you needed was a headphone, which most people had for listening to the radio, and the coil from a Model T Ford. In the Thirties, most people had a tube-type radio, powered by a six-volt battery. Frank and Vern, who bunked in a room upstairs in the family home, went to work setting up their own upstairs telephone office.

By connecting the hair-thin wire from an old coil to the fence line, they soon were able to bridge the Saskatchewan phone system from one county to another. This allowed long distance calls to be made over the fence line. One did not need a battery to call out because the system was sound powered, using the radio headphone. A battery was used only to buzz (ring) the line with the Model T coil and get the attention of other people that were connected to their phone system. As long as the weather was dry, the system worked well, but an intense Saskatchewan rain, however, would cause a short circuit and shut the whole thing down. Where the fence ran through the bush, the boys had to be careful that no green trees were touching the line, as this would also short out the system.

Road crossings became the main challenge, because, of course, the fence didn't cross the road. The lads then ran an insulated wire through a drainage culvert to connect to the fence on the other side. On occasion, where there was no culvert, they erected tall poles and ran their fine coil wire over the road to make the connection. These above ground connections, however, proved to be problematic in the fall because of farmers travelling with their grain binders. The binder had a long whip that stuck up about ten feet and would hook the overhead wire and again shut the system down.

On occasion, the wires would become crossed, so Frank and Vern's telephone system became connected to the Bulyea exchange. This caused some friction and an immediate shut down enforced by their parents.

The barbed wire phones served the farming community around Gibbs, Saskatchewan for some time before the telephone company complained and put the homemade telephone system out of business.

These were the early years of learning about electricity and new mechanical advances. The youngsters easily adapted to this new technology and went on into careers of mechanical engineering while Grandfather Greenfield clung to the old ways of farming with horses.

When Grandfather did buy a car, he had great difficulty making the transition from horses to mechanics. There were many instances when the eager coaxing from the young lads in the back seat of the car was not entirely appreciated. Grandfather struggled to overcome his technological handicap and eventually did master the operation of an automobile. He and Grandmother retired from the farm and lived in Edmonton in their latter years.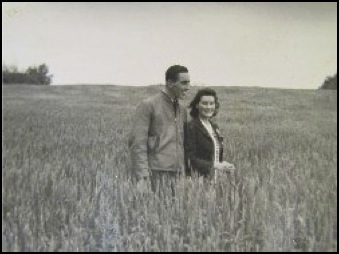 Destiny in the making:

At age 21, Father was out in the field harrowing-- the day he met my mother. He had four horses hitched to six sections of harrows, and in the absence of a harrow cart, he was walking behind holding the reigns. By mid-afternoon when he was soaked in sweat and black with field dirt, he noticed a couple of young ladies walking down from his Uncle Joe's farm. Coming across the field toward him were his cousin Marion and her friend Marjorie Hampton. Dad stood there all grubby and visited for a while, but took the opportunity to invite them to the dance that evening. Because he was part of the orchestra, Father only got one dance with young lady Marjorie, but when he did, he instantly fell in love.


A progression of interests:

Years into the future, Father would be known as an inventor and problem solver in our Northern Alberta community. When anyone was faced with a technological problem that they couldn't solve, Frank was the man for the job. Having been trained as an aero engineer, he was well grounded in basic mechanical understanding, which held him in good standing all through his business years in agriculture. I recall having what may have been the first electrified house on the homestead. Father scrounged an old "one lung" engine that he hooked to an aircraft generator that lighted our home for a period of time before the province provided power to the community. This was a welcome change to the standard gas lamps and coal oil lamps that we were accustomed to in those homesteading days.

This was one of many innovations that Father became known for. The farm with it's workshop, welding equipment, tools and ready supply of building materials was fertile soil for an inventive mind.

Recently, the nurses in Father's seniors cottage secretly removed all of his tools, electrical devices and baling wire for fear that his "tinkering" might lead to some disaster. Little do they know that by doing this, they have removed from him his very soul.

Then he could only reminisce about his days of freedom and look forward to a new day-- a new body and a new life. We can only hope that St. Peter will issue a tool box upon arrival.